If you're a budding Gordon Ramsay, Tideswell has a number of shops from which you can buy supplies for a home-cooked slap-up meal in The Old Piggery.  But do make sure you take time out to sample the many local pubs and eateries in the area.
Our favourites include:
* Vanilla Kitchen is a local village cafe serving food and snacks and great coffee through the day. Open Weds thru Sunday.  Dogs are welcome in the outside courtyard.
* Peak District Dairy Cafe – is situated above the Dairy's shop on the main street in Tideswell.  Lots of local produce (and scrummy cakes!).  As well as offering a wide selection of dairy products (and cake!) the shop also sells their delicious home made ice cream to take away.
*  The George -  a pub located next to the Cathedral of the Peak.  Serves good food and beer.  Has an outside seating area for when the sun is shining, and an open fire for cosy nights in.  Dogs very welcome, inside and out.
* The Red Lion, Litton. A short stroll from Tideswell, Litton is the next village along the valley and boasts a fantastic pub. Good food, great beer, and dogs are given a very warm welcome.  They have recently started a pizza delivery service if you don't fancy the walk. This pub is great in the summer months, as there is ample outside seating overlooking the village green.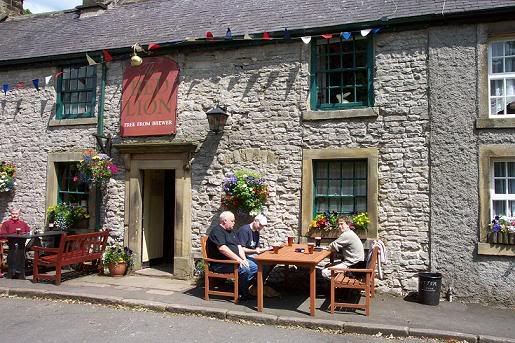 * The Horse and Jockey in Tideswell is a traditional country pub, with good food, good ales and a roaring open fire.  Dogs very welcome. They have a good folk night on a Thursday.
*  The Star is another pub in Tideswell serving good beer.  Dogs welcome.  You can test your brain cells at the regular Thursday night quiz night!
* The Anchor is situated on the edge of the village, and serves traditional pub grub by the delightful Debs and Paul.  Dogs are allowed in the room on your left as you walk in.  You might get to meet the resident pooches, Piggy and Wiggy.
* The Tideswell School of Food runs occasional Supper Club nights where you can enjoy dinner cooked by one of their chef tutors.  Check out their website to see if they have any dates planned.
These links will take you outside of the comfy confines of our website, into the big wide web.We have no control over or responsibility for their content. However, if you find any of these links are broken, please contact us.